The early Black Friday sales are here and rounded up for your delectation
We're really seeing the Black Friday 2019 deals ramp up now, and all the main retailers are starting to roll out their own Black Friday sales even before the big day on November 29.
So, should you wait for Black Friday or grab one of the early deals now? Well, we're seeing some top choices appear already (and you can see the best of these below) and if you're looking for Airpods deals, TV deals or just a smart Black Friday iPhone choice then we've listed them below – after all, our goal is to save you money during this Black Friday sales zone.
The reason for so many deals being around is simple: as the Black Friday sales in 2019 land after payday for many, trying to grab more dollars just became a lot harder for many retailers. They want to extend into the 'golden quarter' so offering tantalising deals now is one of the ways to do that.
If you want the best deals, then yes… still wait for Black Friday. Wait hard. Because there will be a few golden options out there if you know what you're looking for (especially around consoles, for instance). If not, then we're expecting some of the choices below to be around the cheapest this year.
Cyber Monday is also set to be huge, with the same research above suggesting that the remaining sales will be appealing to a number of consumers and worth checking out.
HEADPHONES DEALS
The best Black Friday headphones deals
Apple AirPods with Wireless Charging Case$199 $164.99 at Amazon
These true wireless earbuds come with a charging case that provides a further 20 hours of battery life and up to three hours of talk time on a single charge – they've gone up $5 since yesterday, but still a great early Black Friday deal.
VIEW DEAL
---
Jabra Elite 75t: $199.99 $179.99 at Best Buy
These brand new true wireless earbuds are already discounted by $20 in the Black Friday sales. With improved battery life and a sports-friendly design, they could give the Apple AirPods a run for their money. You can also get this deal at Amazon if you prefer.VIEW DEAL
---
SMARTWATCH DEALS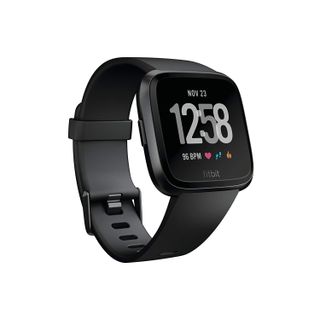 Fitbit Versa Smartwatch $199 $139 at Amazon
Amazon has the Fitbit Versa smartwatch on sale for $135. That's a $65 discount and the best price we've found for the waterproof smartwatch that tracks activity, workouts, and calories burned.
VIEW DEAL
---
Fitbit Ionic Watch$249.95 $199.99 at Amazon
Get the Fitbit Ionic smartwatch on sale for $199.99 at Amazon. The Ionic watch features GPS technology so you can track pace, distance, and routes and includes a built-in NFC chip for contactless payments.
VIEW DEAL
---
LAPTOP DEALS
Apple MacBook Pro 15-inch Intel Core i9, 16GB RAM, AMD Radeon Pro 560X: $2,799.99 $2,349.99 at Amazon
This deal has just got even better, with Amazon cutting $450 off the price of the MacBook Pro model that comes with a 9th generation Intel Core i9 processor, 512GB SSD and AMD Radeon Pro 560X GPU. VIEW DEAL
---
NINTENDO SWITCH DEALS
Nintendo Switch Lite | 128GB memory card | $225.45 at Amazon
For just $25 extra on top of the base price of the console a 128GB MicroSD card is an excellent purchase and unlike some cheaper memory cards, this one has the recommended write speed to loads games at the proper speed. Not a fan of the yellow Switch Lite? You can get this bundle in gray or turquoise too. VIEW DEAL
---
IPAD DEALS
iPad Pro 11-inch 64GB | $799 $674 at Amazon
The smallest iPad Pro available is also carrying an even smaller price tag at Amazon this week. With a saving of $124, this 64GB iPad Pro is perfectly suited to running a range of apps and storing a few movies and shows on top. You won't want to be using this for any heavy duty media work but note taking and light art will be lightning fast. VIEW DEAL
iPad Pro 11-inch 256GB | $949 $879 at Amazon
If you don't think 64GB is going to cut it, you can also grab an 11-inch iPad Pro with 256GB of storage for $879 at Amazon at the moment. Linked here is the Silver model, but the Space Gray version comes in at $895.93 if you prefer that. VIEW DEAL
---
BLACK FRIDAY IPAD PRO DEALS (UK)
iPad Pro 10.5-inch (2017) 64GB | £619 £499 at Amazon
Save £120 on this iPad Pro, available for under £500 before Black Friday. The 10.5-inch model may be a little smaller than the massive Pro models we've come to expect, but it's still larger and more powerful than its 9.7-inch siblings. This model comes with 64GB of storage – more than enough for a few heavy apps. VIEW DEAL
---
BLACK FRIDAY IPAD AIR DEALS
iPad Air 10.5-inch 64GB (2019) | $499 $469 at Amazon
You can save $30 on the 10.5-inch iPad Air at Amazon, grabbing a 64GB Silver or Space Gray model for just $469. The iPad Air supports the Apple Pencil and packs much of the power of an iPad Pro in a more portable shell. This saving is also available on the 256GB version, now under $600. VIEW DEAL
---
iPad 2019
Apple's flagship 2019 iPad received a number of updates over the previous model on release in March. You can now use the full sized Smart Keyboard and use external storage solutions with Apple's central line of iPads. At 10.2-inches, the display matches that of the Air model, but with a few specs under the hood that don't live up to its sibling. Still, the A12 Bionic chip remains, and if you're looking to save as much cash as you can on a 2019 model this Black Friday, these iPad deals are for you.
BLACK FRIDAY IPAD 2019 DEALS (USA)
iPad 10.2-inch 128GB (2019) | $429 $399.99 at Amazon
The latest in Apple's flagship iPad line, the 2019 10.2-inch iPad is a remarkable step up from the previous vanilla iPads on offer. Plus, this 128GB of storage looks even better at $399. At this price, we wouldn't recommend downgrading to the 32GB version, but it's $319 if you want to take a look. VIEW DEAL
---
BLACK FRIDAY IPAD 2019 DEALS (UK)
iPad 10.2-inch 32GB (2019) | £349 £338.99 at Amazon
The 2019 iPad hasn't seen its Black Friday deals pop up in the UK yet, so this is the cheapest you can currently grab the model today. 32GB is more suited to light entertainment than heavy graft so bare that in mind when choosing your storage size. You might be better off paying a little more for the 128GB 2018 model further down the page if you're looking to run more apps. VIEW DEAL
---
TV DEALS
The best Black Friday TV deals
Samsung Flat 43-Inch QLED 4K Q60 Series Ultra HD Smart TV $799.99 $497.99 at Amazon
Get the 2019 Samsung 43-inch 4K TV on sale for $497.99. The QLED TV delivers bright and bold colors thanks to the Quantum dot technology and works with Amazon Alexa and the Google Assistant for voice control.
VIEW DEAL
Sony 55-inch 4K Ultra HD Smart LED TV$799.99 $498 at Amazon
You can save $300 on the Sony 55-inch 4K smart TV. The Ultra HD TV delivers a premium picture experience thanks to the 4K X-Reality Pro and works with Amazon Alexa and the Google Assistant for hands-free control.
VIEW DEAL
---
The best Black Friday TV deals so far (US)
Samsung UE40NU7120 40-inch 4K TV £529 £349 on Amazon
This was a fantastic sale highlight, as one of the newer 2018 range of Samsung 4K HDR smart TVs. Amazon knocked £170 off, making it the best Black Friday 2018 price on a 40-inch TV of this quality.
VIEW DEAL
---
How can I get the best Black Friday TV deals?
Black Friday and Cyber Monday can be stressful; after all, there are hundreds, if not thousands, of deals to sift through, and it can be difficult to know which deals are best for you.
So, it's worth doing your homework ahead of time – that means checking out the retailers you think you might buy from come November, and looking out for any artificially inflated prices.
Over the years, we've found that many of the best value deals tend to appear the closer you get to the actual Black Friday weekend, especially on more expensive products – like TVs – where retailers could still make a profit while knocking a hefty amount off the price. Supermarket TVs are often cheap to start with, so make sure you are getting a good discount on the original RRP. Go even further down the rabbit hole of budget TVs, and you might even find bottom-dollar prices for Full HD 40-inch sets, as we saw in 2018 – even if the quality doesn't match 4K sets, these bargain TVs could make a fantastic addition to your kitchen or bedroom.
What about Cyber Monday?
We'd recommend going for the best Black Friday TV deals rather than waiting for Cyber Monday, but if you don't find what you're looking for, it's a great time to find discounted TVs.
Essentially, any online store is worth keeping an eye on over Cyber Monday; after all, it's a sales event dedicated to online shopping.
Amazon is always a good place to find Cyber Monday deals, even though it's more focused on its own Prime Day sales these days.